LoRa Alliance All Members Meeting 2019: Celebrating Milestones and Showcasing LoRaWAN Roaming
July 3, 2019 | written by GABOR POP
On June 11 to 14, the LoRa Alliance held its most important annual All Members Meeting event in Berlin. As always, it was a great opportunity to meet, discuss, and network with one of the largest tech ecosystems in the world. 
This year, the Alliance achieved some incredible milestones that strongly contributed to position the LoRaWAN technology as one of de facto technologies of the IoT Market:
(1) Surpassing 100 LoRaWAN operators across more than 140 countries
(2) Finalization of the LoRaWAN pre-testing tool which allows fast-tracking of certification processes
Per usual, the event took place following two parts. It dedicated the first two days to committee works: technical, marketing, and certification. The technical committee focused on finalizing the 1.0.4 version of the LoRaWAN standard. Meanwhile, the marketing committee developed a new marketing strategy based on a vertical approach of the IoT market. It was great to see the interest, involvement, and hard work from committee members. 
Moreover, the event  highlighted the live open house event on the third and last day. This was where LoRa Alliance members and participants were able to showcase their products and solutions and meet visitors. 
Finally, the Open House welcomed 500+ people and featured a mix of business and technical tracks. Additionally, more than 30 members of the LoRaWAN ecosystem also showcased their latest products and solutions during the event.
Talks from the experts and LoRa Alliance recognition
Actility and its partners presented an impressive line-up of speakers in both tracks.
Raphael Apfeldorfer (left), Advanced Technology Director at Actility, gave a presentation about the Actility-Idemia partnership for large-scale device activation. Meanwhile, Alper Yegin (right), Director of Standards and Advanced Technology Development, gave a talk about how Actility is enabling roaming through the ThingPark Exchange peering hub. On the other hand, Birdz Veolia explained how they are deploying 3 million LoRaWAN water meters in France, based on an Actility-supplied network. Schneider Electric also presented their brand new connected electric panel that they are selling in multiple countries using the ThingPark Exchange roaming platform.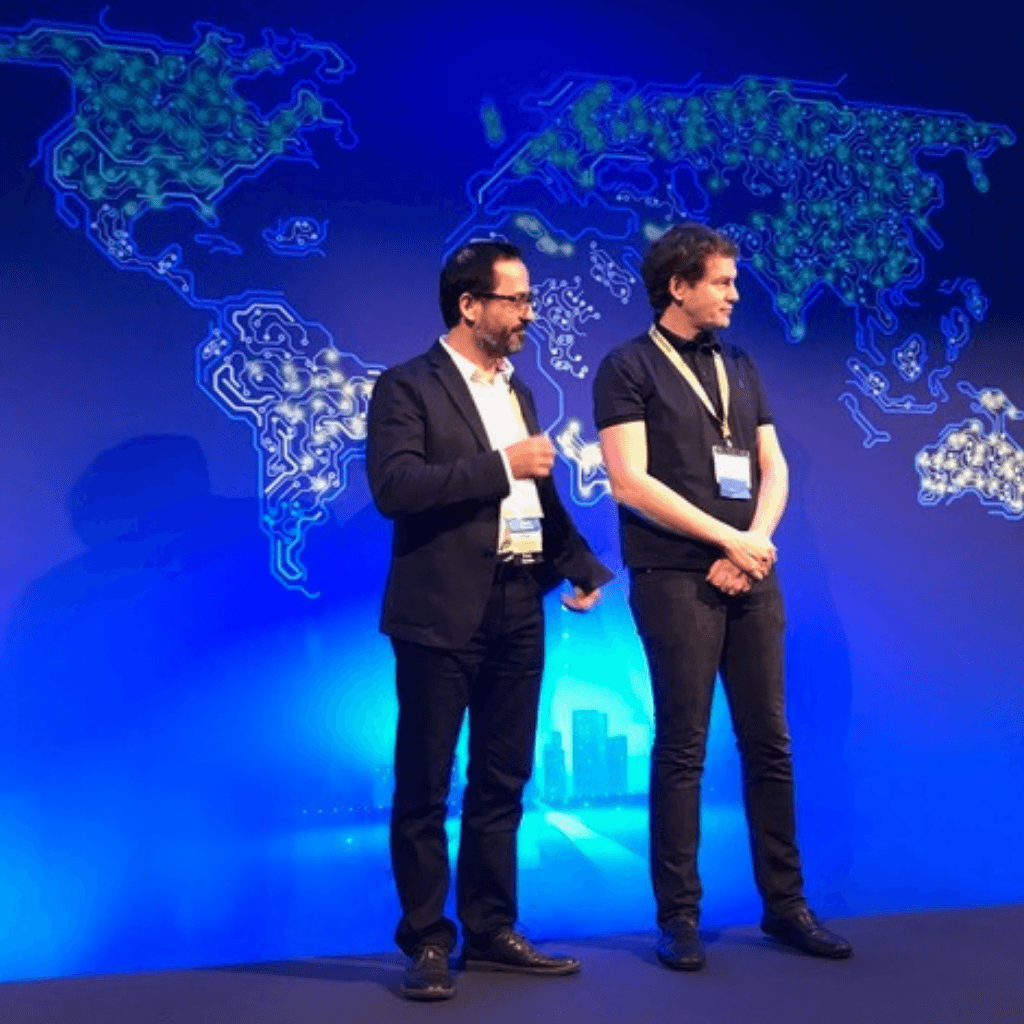 On another note, the LoRa Alliance presented the Lifetime Achievement Award to Alper Yegin at the at the event. This was to recognize his valuable contributions to the LoRaWAN standard and the LoRa Alliance's growth and activities over the past years. In relation to this, LoRa Alliance CEO and Chairperson, Donna Moore, said that 2019 is the strongest year on record due to the rapid growth of mass deployments with LoRaWAN networks having been established in over 140 countries worldwide. 
In the spotlight: LoRaWAN roaming and a neutral hub
Although the event addressed many different topics, the key highlight was roaming. With network providers implementing the LoRaWAN Backend Interface, more and more operators are establishing roaming agreements, whether it's point-to-point or through a roaming hub.
The Actility ThingPark Exchange roaming hub, specifically, has achieved a critical volume of operators, with more than seven large European operators already onboarded. Currently, they are serving solution providers who will deploy LoRaWAN products in a multi-country environment.
Because the Actility roaming hub supports the latest Back End interface standard, it is automatically compatible with any LoRaWAN network server (even if they are not powered by Actility) and operator, making it the first truly neutral and live LoRaWAN roaming hub on the market.
"The first truly neutral and live LoRaWAN roaming hub on the market, already serving multi-country clients."
With this in mind, Actility had the pleasure to host two exceptional partners in its booth – Schneider Electric and Idemia.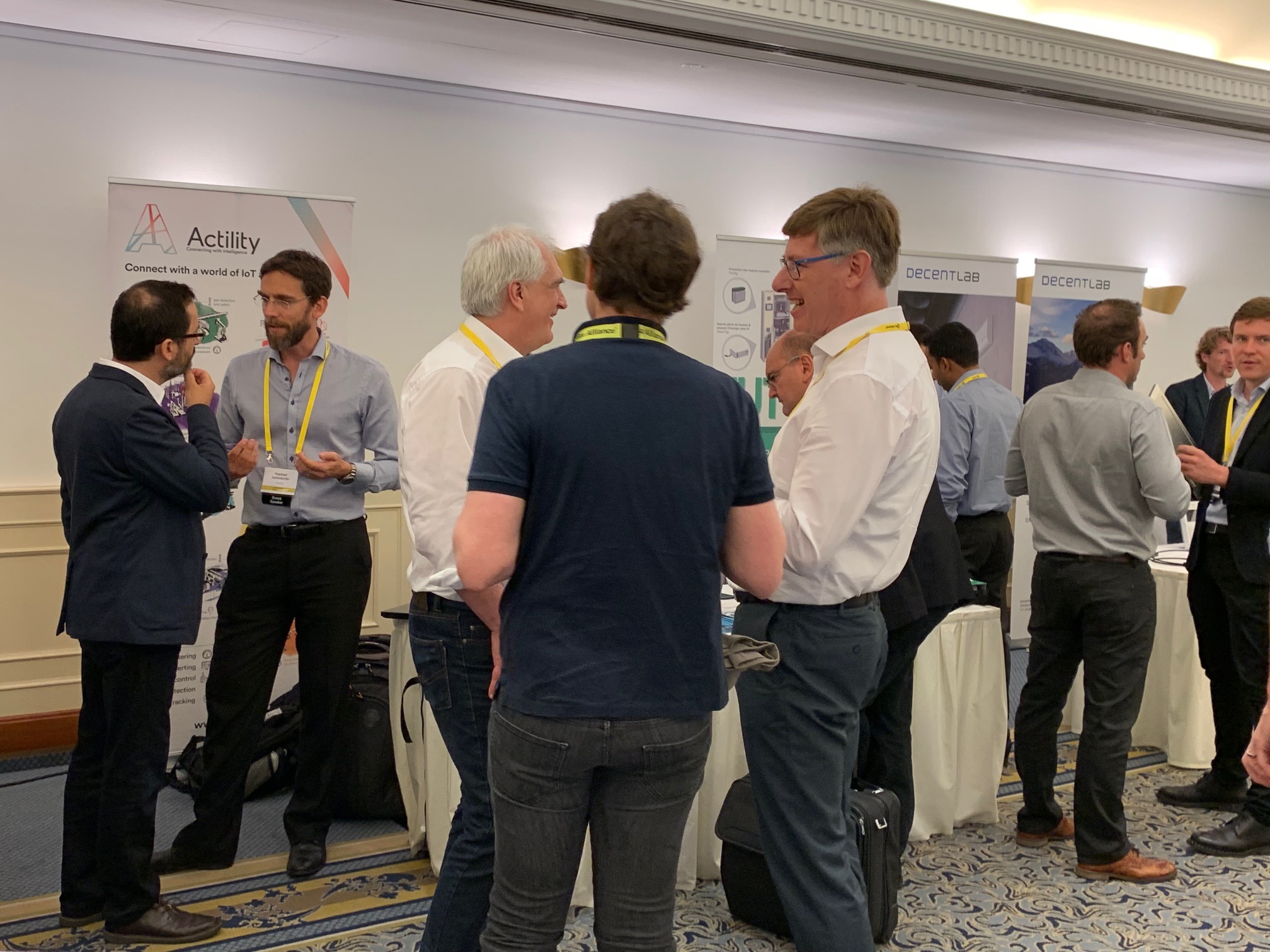 Schneider Electric demonstrated its brand-new Electric Panel of the Future, which they are selling in several countries leveraging the roaming hub. On the other hand, Idemia exhibited its full integration with the Actility ThingPark Activation service, which provides secure service activation and over-the-air personalization of LoRaWAN sensors.
Meanwhile, another Actility strategic partner, ST Microelectronics, showcased its implementation of firmware-over-the-air update using Actility ThingPark FUOTA. In the coming months, any device based on STM32 will be able to benefit from this feature. This solution leverages difference-based update for 10x compression.
For Actility, it was definitely an incredible event that highlighted the significant growth of the ecosystem and provided a good avenue to meet with existing clients and future partners. Looking at this, LoRaWAN is clearly scaling voluminously with its business rising in all regions, as the recent announcement from Clickey also proved. 
The next  LoRa Alliance All Members Meeting will take place in New Delhi, India mid-October 2020. We hope to see you there!
Like what you read? Share this article on social media:
We'd love to hear your thoughts. Share your insights in the comments section below.