Actility's night at the museum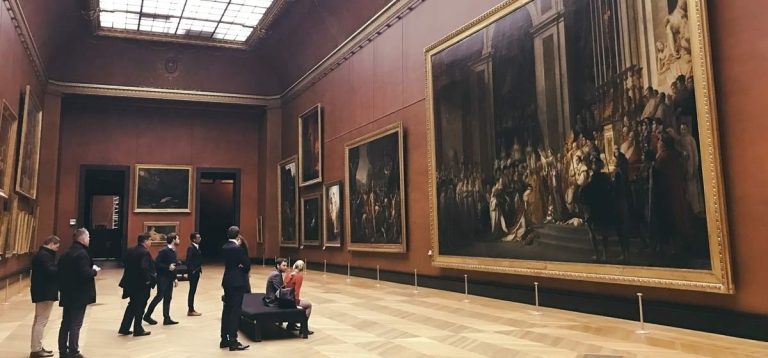 The first Actility Operator Forum in Paris on the 29th and 30th of November 2018 saw over 50 global network operators and 100 customers or partners join Actility, at the invitation of CEO and Founder Olivier Hersent, to celebrate the growth of the ThingPark LoRaWAN® ecosystem and to share success stories, feedback, and best practice.
As a global leader in LoRaWAN solutions and a founding member of the LoRa Alliance(™), the Actility team and our partners have a lot to celebrate as LPWA technology is adopted globally at an ever-increasing rate. 
After a day hearing about the best in IoT technology, the maturity of LoRaWAN, and operators' readiness for multi-country roaming, we wanted to share with our guests the very best our home city of Paris had to offer, and where better than with a very special private after-hours tour of the Louvre?
With almost 7000 square meters of gallery space displaying tens of thousands of history's greatest artworks and antiquities, the Louvre is the largest museum in the world, and with over eight million visitors per year, it's also one of the most popular. Want to avoid having to rub shoulders with thousands of people while you're enjoying this global treasure-house? You should have come to Actility sooner!
Our tour guide explained that the Louvre is home to more than 380,000 objects and displays 35,000 works of art in eight curatorial departments. For our tour, she selected the most captivating rooms and most notable works of art like the Mona Lisa, Psyche Revived by Cupid's Kiss, the Coronation of Napoleon, the Winged Victory of Samothrace and the Venus de Milo.
With no one else around, we had the time and space to thoroughly admire the stunning building and interiors with their echoing hallways, multicolored marble floors, elaborate plaster moldings, sweeping staircases, and above our heads, the spectacularly painted ceilings.
The Louvre is vast, and every square meter above, around and underfoot is beautiful! There are entire wings dedicated to decorative arts, French paintings, Italian masterpieces, and more, and we had the pleasure of touring a "greatest hits" selection thanks to Actility and the inaugural Actility Operator Forum.
The tour was followed by a reception in The Café Richelieu in the Mollien Pavilion, close to Napoleon's former apartments. From the first-floor terrace, guests could take in the views of the Eiffel Tower, Le Cour Napoleon, and the Louvre pyramids while sipping champagne and feasting on Chef's finest canapés.
The evening, and the entire Actility Operator Forum, were a huge success, with nothing but enthusiastic responses from our guests! The only problem is how on earth do we provide an even more memorable experience for our customers and partners next year? The bar has truly been set high.