The Road to IoT Riches, Part 1: The New Silk Road in Asia-Pacific
End of July, ThingPark China, Actillity's Chinese branch, signed a landmark agreement to launch an IoT network on the 'New Silk Road'. This modern day version of the ancient Silk Road is meant to drive commerce, connectivity, and cooperation between nations, connecting Asia to Europe. As a strategic player in this initiative, Actility wanted to highlight the road to IoT riches starting with a focus on the Asia-Pacific (APAC) region.  In this first blog post, we will look into how Actility is boosting the emerging regional LoRaWAN ecosystem.
As a global LoRaWAN pioneer, Actility is supporting APAC Communication Service Providers deploy large scale Low-Power Wide-Area networks in the following countries: Australia, China, French Polynesia, Hong-Kong, Japan, New Zealand, Singapore South Korea, and Taiwan. As the LoRaWAN technology is getting more and more traction in this region, we're here every step of the way for our customers to help them build and benefit from a vibrant ecosystem. Here are the main levers for the APAC ecosystem:
1. Enable device makers with a common standard
The LoRa Alliance, gathering + 500 LoRaWAN players,  is an essential asset for the ecosystem. As a co-founder of the Alliance and active member of the Technical Committee, we are really happy about one achievement: the 1.0.2 evolution of the LoRaWAN standard.
"It has successfully addressed one of the biggest challenges of the Asia AS923 region; this lack of standard made the life of devices makers aiming to address the APAC market really hard." Gabor Pop, Product Strategy Manager, Actility
Indeed, Since almost every country had a different radio framework for the ISM band with various frequencies or transmission powers, makers needed to personalize devices for each country with the relevant RF (Radio Frequency) and Tx (emission power) parameters during manufacturing. This also limited roaming possibilities between countries.
With the 1.0.2 evolution, the LoRa Alliance came up with a new RF framework for Brunei, Cambodia, Indonesia, Japan, Laos, New Zealand, Singapore, Taiwan, Thailand, and Vietnam. The idea is to use two common radio channels (923.20 and 923.40 MHz) for all these countries in the device joining process. Once the device has joined the network, the right country channel plan is downloaded to the device. Device makers will soon be able to manufacture a large volume of the devices without having to personalize them for a specific country, thus reducing sales prices.
2. Fasttrack business deployment
Helping over 20 major Telcos worldwide roll-out their LoRaWAN networks made it obvious that Actility can help accelerate the launch of an IoT offerings by sharing expertise, use cases, and business support.
Actility's IoT consultants start with sharing lessons learned from past deployments on issues faced by operators and solution(s) tried out to solve them. Best practice sharing avoids the trial & error phase that the first operators had to go through, thus speeding up BAP customers' business development. That's what the Business Accelerator Program is for.
"In APAC, each operator we discuss with is serious about offering LoRaWAN-based services. They want to know what the success factors and pitfalls are, and then, they kick start their own ecosystems to get the best ROI from the network." Von Cameron, Head of Business Accelerator Program, Actility
Leveraging + 100 documented use cases, we build for each customer a tailored business program covering:
Education about the technology and the ThingPark platform: what can LoRaWAN and ThingPark do?
Ecosystem creation: how to gather a community of developers and makers that will contribute to creating business opportunities?
Radio planning: how to design a network and position gateways?
Proof of Concept: how to run the network?
Business planning: how to develop a strong business case based on relevant use cases, a portfolio of offers with the right pricing and Go-To-Market?
Go-To-Market: how to maximize the ROI of a LoRaWaN infrastructure (network rollout plans, ecosystem maturity, and local market specifics)? how to monetize new products/services on a marketplace?
One of the first APAC customers our teams is accelerating is the South Korean operator Dreamline.
"Dreamline expects to be able to provide a stable IoT service by signing a business agreement with Actility, Dreamline is planning to transform from a fixed-line operator to a wired and wireless operator through the development of the IoT business." Kim Hyung-suk, CEO of Dreamline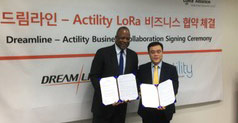 3. Create your own ecosystem

Dreamline wanted to attract device makers and application developers to the LoRaWAN network it is building. It is implementing a custom branded version of Actility's ThingPark partner portal, accessible both in English and in Korean. Dreamline's local partners will be able to create an account for free, and  then use a dev kit and a pico gateway to experiment the LoRAWAN technology. As a matter of fact, building a first IoT temperature sensor prototype is just a one-hour experience!

The custom branded ThingPark Partner Program enables a wide community of makers and developers to connect, test and distribute a large portfolio of IoT solutions with ThingPark. The program also offers support to organize developer events such as boot camps or hackathons. It is the best way to meet your target audiences and understand what they truly expect from you and your technology. Last but not least, Actility provides to its APAC customers a unique online interoperability testing tool, ThingPark Connected, to do self-testing and debug their devices before market launch.

"Our goal is to help our APAC customers, like Dreamline, build powerful local ecosystems. The more makers you have, the more value you bring to your customers (enterprises, system integrators, distributors…)." Alexandre Amiot, Partner Program Director, Actility
Some of our APAC partners plan to open LoRaWAN IoT test labs on their premises or in partnership with local universities. These labs will not only showrooms for LoRAWAN devices and network but also hubs for developers and devices makers to test their devices on a risk-free network environment (a development network).
As of today, the ThingPark custom branded Partner Program is being implemented by major players in China, South Korea, and New Zealand and it should cover another three Asian countries in the coming months.
4. Monetize LoRaWAN products and solutions
Since the IoT market is fragmented, many companies offer multiple services and devices. As a result, it would take far too long to a buyer to identify one by one the companies able to provide the relevant service or device. For a vendor, it would be too expensive to target audiences, prospect, and get referrals from every company with IoT requirements. Therefore, an IoT dedicated marketplace allows both buyers and sellers  to meet as well as ensure a smooth and efficient business transaction.
"APAC is the largest e-commerce market in the world with the greatest growth potential. At the top of e-commerce sites rankings, you only find marketplaces. Because they offer consumers an unmatched user experience, they're now spreading out to the B2B tech environment including IoT." Kamel Tansaout, ThingPark Market Director, Actility.
ThingPark Market offers an operator branded customized storefront as well as billing as a service. You can use your marketplace:
As your one stop shop digital channel to expose solutions to your distribution channels & customers targets, build online referral and lead generation and reduce customer acquisition/order generation costs
As your e-sourcing platform to purchase third party devices
As your e-commerce platform to expose and sell IoT connectivity & pre-packaged connected