Contact: Gabor Pop, Actility
E-mail: gabor.pop@actility.com
Actility proudly receives ISO 9001:2015 certification
A Commitment to Continuous Delivery of Quality Products and Services to Clients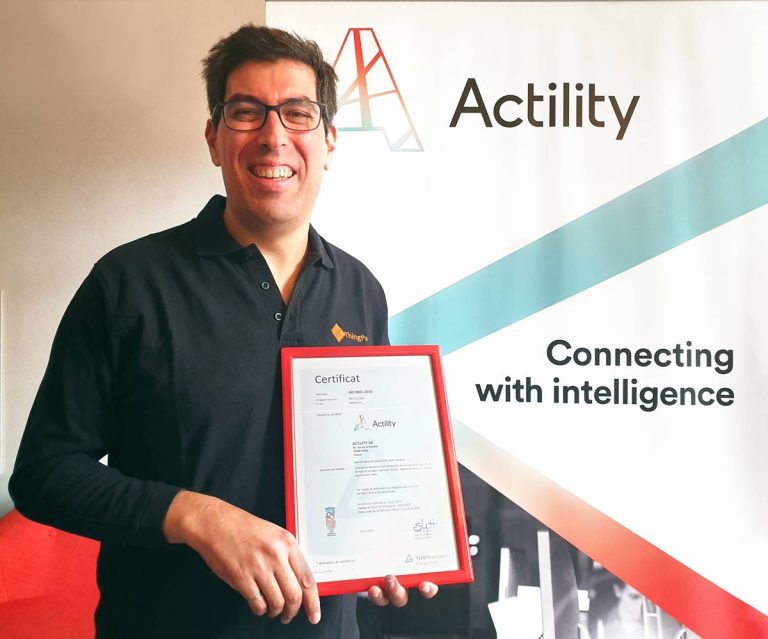 [PARIS, FRANCE, September 4, 2019—] Actility happily announces its official ISO 9001:2015 certification after an audit conducted by TÜV Rheinland France in June 2019.
The scope covers the design of connectivity products and services, delivered as software or SaaS, operated by Actility, and trading of equipment, including a radio functionality. The ISO 9001:2015 certification is a globally acclaimed standard that verifies the effectiveness of an organization's quality management system in addressing client needs with their products and services.
In a rapidly changing world where customer demands continue to evolve, Actility always recognizes the need to innovate and adapt its products and services to satisfy market needs. This is why the company never stops the improvement of its internal processes and keep high quality practices to maintain both product and service excellence. Achieving the ISO 9001:2015 certification is a concrete manifestation of this commitment as it is considered as one of the most meticulous and prestigious standards in the world.
Internally speaking, this is also an attestation to the thorough understanding of employees on each of their roles, including performing best practices in interacting with both colleagues and clients, effective troubleshooting, and suggesting improvements. Being able to do so nurtures a well-organized and harmonious working atmosphere within the company resulting to delivering only the best to its external stakeholders, especially the customers.
As Actility CEO Olivier Hersent said, "[…] Actility passed ISO9001 certification, not just for R&D (research and development) process as often the case in our type of tech company, but for the whole company! This exercise was extremely challenging amidst the storm of regular business; however, it was necessary and extremely useful. […] The process also helped a lot creating more communication across functions."

In addition, he remarks, "Needless to say, as any engine, processes need regular oiling, so this achievement is only the beginning." Indeed, Actility is steadfast, more than ever, in its dedication to both operational and service excellence for the next years to come.
Actility connects the industrial internet of things. Our IoT connectivity platform, tools, and fast-growing ecosystem enable our customers to create IoT solutions that transform business, industries, and processes. The ThingPark LPWA platform connects sensors gathering data to cloud applications on any scale, from global or national networks to secure on-campus enterprise solutions, managing devices, data flows and monetization. Our value-added applications and business services enable roaming, device software update, geolocation, and smart grid. Actility is at the heart of a thriving customer ecosystem, connecting solutions partners, supporting developers and device makers preparing their LPWA product for market, and providing an e-commerce Marketplace offering global distribution to solution providers. Actility co-founded the LoRa Alliance and continues to pioneer LPWA networking technology. 
If you would like more information about this topic, please e-mail Gabor Pop at gabor.pop@actility.com.
Like what you read? Share this article on social media:
We'd love to hear your thoughts. Share your insights in the comments section below.