Key moments at the EY France Start-up of The Year Awards Ceremony 2017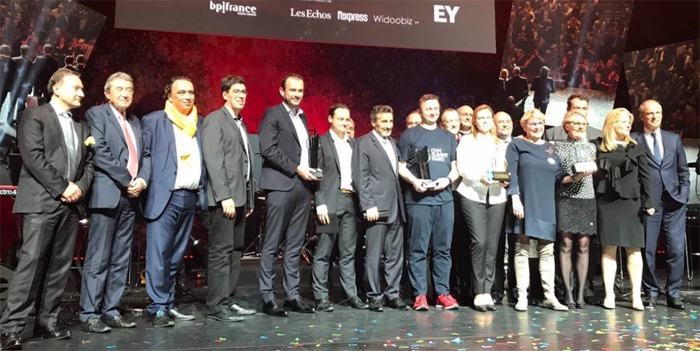 Here I was again at the prestigious Salle Pleyel for the 25th EY France Entrepreneur of the Year awards ceremony. Participating this year was Christophe Barbier from L'Express, Arnaud Le Gal from Les Echos and Jean-Francois Royer from EY as Master of Ceremonies, accompanied by a band playing pop standards and a couple of entertaining breakdancers.
After the makeup session, as is required before going on the brightly lit stage, I met with the EY hosts, who were interested in hearing about the latest in LoRa news and Actility, a year after being bestowed the Startup of the Year award. I was happy to inform them that the technology-centered standard alliance meeting that we have created is taking place this week in China and I also used the opportunity to present our new tracking devices that locate objects around the world.
After our brief discussion, I had the honor of presenting Evaneos with the 2017 Startup of the Year award. Evaneos provides a great website service where travelers are connected directly to local travel agents. Another moving moment of the night was undoubtedly when the award for the "Prix de l'Engagement Sociétal"  was presented to "Les P'tits Doudous", an association that helps children in hospitals. A truly great story.
Yet another worthy moment of note was awarding the "Prix de l'Entreprise Familiale" to Sodebo—three sisters who have successfully been running a business they inherited from their parents. One of their most notable ambassadors is the famous sailor, Thomas Coville, who holds the world record for the "du Tour du Monde à la voile en solitaire et en multicoque" (sailing solo in a multihull around the world). His boat is sponsored by Sodebo.
One of the key highlights of the night was the presentation of the Enterprise of the Year award, which went to Octave Klaba, of the OVH Group. This is a great story about a young engineer who came to France from Poland without knowing the language. Truly inspiring.
The memorable night ended delightfully over cocktails.