Watson Helsinki Summit: The Magic Show by Digita, Watson IoT and ThingPark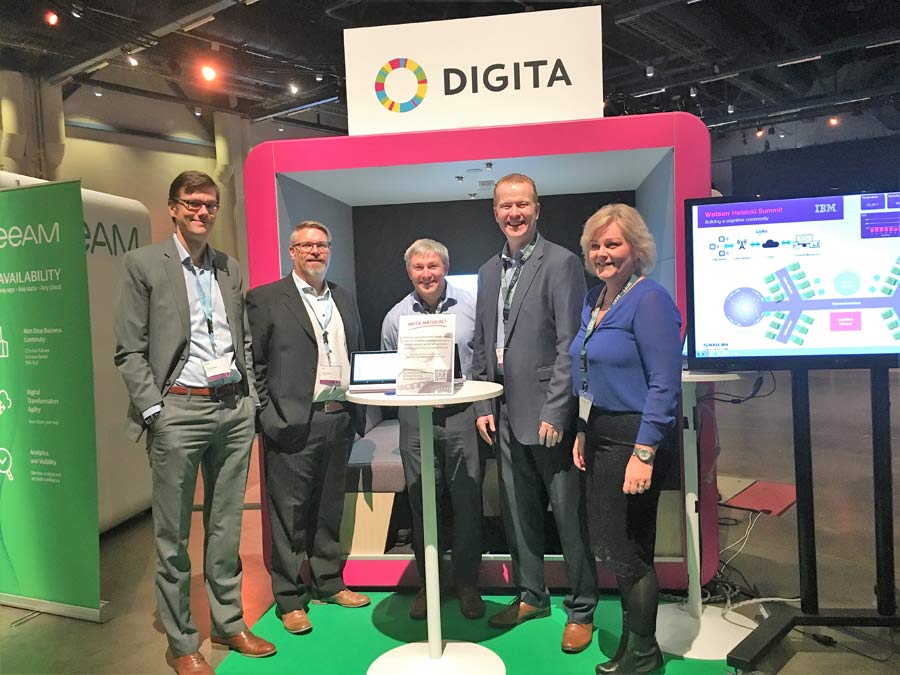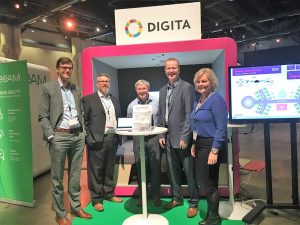 On 18 October, Guy Shelbourne and myself Mark Maidman were invited to attend the IBM Watson Helsinki Summit by our Finnish partner Digita. We told visitors the unheard of capabilities of a public LoRaWAN network, coupled with Watson IoT analytics and ThingPark. Here's the full story!
IBM Watson… You may know it as "the supercomputer able to play and win Jeopardy against the two best human competitors". This is how 13-year-old Watson Programmer, TEDx Speaker & Algorithm Developer, Tanmay Bakshi stumbled on it.
The Watson developer embarked on an AI mission to augment human life for people whose disabilities hinder their communication with the outside world. As a matter of facts, the young Canadian prodigy was invited to deliver the closing keynote at the Helsinki Summit.
As a professional, chances are that your company uses Watson IoT analytics and AI to "drive deeper customer relationships, operational excellence and digital transformation". Noteworthy is that Watson analytics have excellent credentials within Finnish corporations.
Digital adventure
Let me introduce my partner Digita Oy here: it is the leading network provider in Finland. In 2015, the traditional television and radio network operator embarked on a new IoT adventure. 
"We believe that IoT technology will revolutionise our daily lives. In theory, there is no limit to the kinds of applications that are possible", stated Markus Ala-Hautala, COO of Digita.
At the start of 2017 seasoned IoT solution developer Ari Kuukka joined Digita to head up the IoT business unit deploying a national LoRaWAN network and introducing end-to-end IoT solutions. Since last spring, Ari has been helped by Mika Flinck, as Head of IoT Sales. His role is to productise the new solutions and to accelerate the sales to different industries. …
"LoRaWAN is right here and now! To bring this disruptive technology to the market, we are investing in a national network and integrating our partners' devices and applications into ready-to-use solutions for Finnish companies." Mika Flinck, Digita
Connected meeting cube
Could Digita dream of a better opportunity to showcase an integrated IoT solution than the IBM Watson Helsinki Summit? The operator went for a connected workplace demo available on the whole event. Each booth had its mobile Smartblock meeting cube equipped with a temperature, humidity and CO2 sensor. Then you could easily monitor activity and comfort on a dashboard.
Visitors were so impressed by this experience that they asked Digita whether they were running the full demo by themselves! The truth is that the operator orchestrated it with its partner Smartblock
Proud to attend the Watson Summit with our partner, Digita.
Adapt and Package
The second solution partner featured on Digita's booth I found inspiring is MATOlog founder and Etteplan Chief Technology Officer, Jaakko Ala-Paavola. He presented a condition monitoring solution using a B2C off-the-shelf sensor packaged it with Digita's IoT network and a user-friendly data visualization app.
"I'm delighted to work with Digita Oy that has the best national coverage and that is trusted by Finnish companies", comments Ala-Paavola.
This Finnish entre/intrapreneur is used to working with IBM services Watson IoT and Cloud that have a lot of traction in Finland.  A testimony to this popularity is the growing number of visitors at the Helsinki Summit: + 2.000 this year!
"Watson analytics is very popular with our customers and analytics are a natural extension to IoT." Jaakko Ala-Paavola, MATOlog
The secret gate
Now that you know the scene, the players and the plot… let's take a look at backstage… technically I mean! As always, Actility's platform ThingPark is behind LoRaWAN solutions used by companies.
Do you know what happens to the data collected by the sensors once it travels on a LoRaWAN network? How does a Watson customer access it? Where's the secret gate from LoRa to Watson?
"The secret gate is embedded inside the ThingPark software, it's called TPX and it's completely seamless for the end-user!" Alexandre Estela, Actility.
With ThingPark X connectors enabled through DX API, the user only needs to have a Watson IoT account to synchronize device data with this cloud: all further configuration, device creation and bi-directional communication are automatically managed by the ThingPark Platform.
This is the kind of magic we Actility like to offer!
For more details on how to implement LoRaWAN in the UK, Ireland and the Nordics, feel free to contact me here!