Global IoT leader Actility accelerates IoT networks deployment in Eastern Europe and Central Asia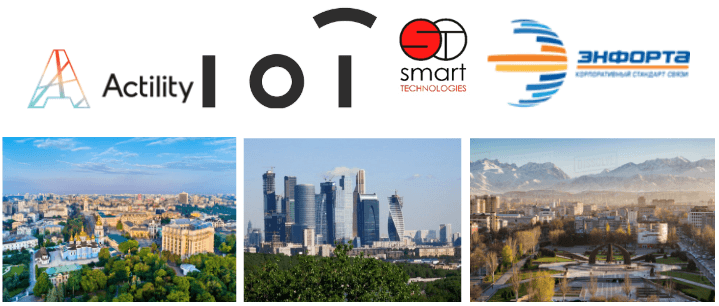 Paris, France, May 14th, 2019 – Actility SA, the world leader in the low-power networks industry, announces deployment launch of large-scale Internet of Things (IoT) networks in Ukraine with IoT Ukraine and in the Kyrgyz Republic with Smart Technologies LLC, based on LoRaWAN™ technology. 
Companies and government organizations in Eastern Europe and Central Asia are increasingly embracing the Internet of Things, with many planning to accelerate investments in the short term.  The announcement arrives a year after Actility's cooperation agreement signature with ER Telecom, the largest Russian IoT operator, to accelerate the deployment of IoT in Russia, using Actility's ThingPark connectivity platform, having covered over 50 Russian biggest cities as of today. With almost all the major LPWAN national networks in the world using the ThingPark platform,  Actility manages more than 30,000 antennas deployed in more than 50 countries: France, United States, Netherlands, Belgium, Switzerland, Australia, Thailand, Japan and many others.  
Now, IoT is gaining momentum in the East European and Central Asian countries, which offers business investment opportunities and use case implementations across a spectrum of industries. IoT is strategic for utilities, manufacturing, transportation and retail organizations in this vast region, which see IoT as an aspirational opportunity that can enhance automation and provide a competitive advantage. Some concrete examples of IoT innovation in the Smart City domain are taking place across the region, from the rollout of smart trash bins or smart parking, to much more complex deployments such as street lighting and traffic management solutions. 
IoT Ukraine, created in 2017 as the national LoRaWAN network operator, is serving Kiev and its region, Lviv and Kropivnitsky, currently expanding to other different regions of Ukraine. Until the end of the year, IoT Ukraine plans to expand its network to all regional centers and suburban areas, the main regional centers of the country. This Ukrainian IoT national network is deployed in partnership with the digital operator Lifecell, with Cisco as a general supplier of Actility's network platform. The first implemented solutions of the company were: smart lighting and smart parking for large shopping malls, entertainment and business centers, as well as tracking – precisely the motion tracking of vehicles belonging to a company specializing in the delivery of food in Kiev, the capital of Ukraine. Another use case is remote metering of gas consumption in the regional center Kropivnitsky. 
IoT Ukraine also expresses their enthusiasm and engagement:

"Our company has deeply and seriously selected the suppliers of IoT solutions of the first national LoRaWAN network for our 40 million population Eastern European country. Today we have connected more than 80 Cisco gateways based on the Actility platform together with the national digital operator Lifecell for smart lighting, smart parking, tracking, gas, water, electrical metering, environmental monitoring and agro solutions on territories with more than six million people in Ukraine. After a year of testing IoT solutions IoT Ukraine has begun commercial operation of the network. Today, we can confidently offer our LoRaWAN solutions to both commercial and governmental clients, being confident in the reliability of the solutions and professional support of the world leaders of the IoT market".
In Kyrgyz Republic, "Smart Technologies" LLC, a Kyrgyz telecom operator, announced the start of cooperation on the deployment of LoRaWAN wireless networks, in partnership with ER-Telecom and Actility, to provide services based on the Internet of Things, as one of the key areas of its growth strategy, in particular, to provide IoT solutions to large companies and government agencies using LoRaWAN technology. At the initial stage, the network will be developed in the city of Bishkek, later in all regions of Kyrgyzstan. Kyrgyz enterprises are in the process of digital transformation, which will significantly increase business efficiency. 
"We are very excited about the opportunity to work together with Actility and ER-Telecom, large innovative players in the huge market of the Internet of Things that is opening up great opportunities. We believe that thanks to the great experience of our partners in industry and regions, we will be able to very quickly and successfully implement LoRaWAN solutions on the network that we deploy"

, 

says  

Smart Technologies LLC.

  
The Internet of Things is the foundation for the development of the digital economy, with unlimited growth potential. According to estimates, based on forecasts of the world's leading analytical agencies, the volume of the Internet of Things in the world by 2022 will reach 1.2 trillion dollars (USD). Considering all the opportunities offered by the digital economy, Smart Technologies LLC decided to enter adjacent markets and launch an IoT network with regional coverage in 3-5 cities with their partners. At the initial stage of the project, special attention will be paid to the housing and utility sector, and the mining industry – the most important sectors of the Kyrgyz economy. The sensors connected to the LoRaWAN networks can provide remote monitoring and data collection from housing and utilities metering devices. In the mining industry, the LoRaWAN can be used for such applications as the monitoring of machinery and equipment for preventive maintenance, preventing accidents and work stoppages, or tracking employees to ensure their safety, for example during blasting operations. The capabilities of LoRaWAN technology will also be useful for logistics and manufacturing companies that can improve the efficiency of supply chain management and operations. Cargo geo-positioning solutions raise particular interest among companies.  
"Today, the strong impact IoT has on business is broadly acknowledged by decision makers. Based on technologies like LoRaWAN, IoT is spreading rapidly across the globe, and now particularly in the countries of East Europe and Central Asia, with Actility supporting a growing number of companies and governmental organizations either testing projects or fully deploying implementation", says Olivier Hersent, CEO of Actility.


END
For further information: 
Actility: Gabor Pop 
gabor.pop@actility.com  
Notes to editors: 
Actility & ThingPark™ 
Actility connects the industrial internet of things. Our IoT connectivity platform, tools, and fast-growing ecosystem enable our customers to create IoT solutions that transform business, industries and processes. The ThingPark LPWA platform connects sensors gathering data to cloud applications on any scale, from global or national networks to secure on-campus enterprise solutions, managing devices, data flows and monetization. Our value-added applications and business services enable roaming, device software update, geolocation and smart grid. Actility is at the heart of a thriving customer ecosystem, connecting solutions partners, supporting developers and device makers preparing their LPWA product for market, and providing an e-commerce Marketplace offering global distribution to solution providers. Actility co-founded the LoRa Alliance and continues to pioneer LPWA networking technology.